Building on the legacy of philanthropy started by my parents, John Hazen White, Sr. and Happy White, Liz and I have continued, and extended, the White family mission of giving back to the community around us. We feel this is an important and enduring obligation for us, and it is rooted in what we consider to be bedrock family values which our children, John III and Ben, share with us. These values are…
Community, which joins and sustains all of us.
Courage, to stand up and make a difference for the betterment of the community.
Faith, which roots us in humility, compassion and hope.
Integrity, to be honest and ethical in all our actions.
Opportunity, in providing the means and pathways by which individuals can improve themselves.
We have been fortunate in our own lives, and we owe a great deal back to the people of Taco who have worked so diligently over the years to make Taco the success it is. Without their considerable efforts there would be no White Family Foundation.
The family of individuals that comprise Taco is a living community unto itself, and one that exists in RI, Southeastern MA, and, further afield, in Nashville, TN. The work of the Foundation is focused on three vital areas that sustain and improve our society: Arts, Education and Healthcare. We salute the dedicated non-profits that labor in these areas, and we are committed to assisting their success.
Working together, we can make a difference in people's lives.
Sincerely,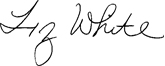 John & Liz White