Mission Statement for the White Family Foundation:
The White Family Foundation seeks to provide meaningful and strategic support for arts, education and healthcare non-profit organizations serving our communities to enable their long-term success in and achievement of their missions.
In doing so, The Foundation is guided by the following White family values:
Community
Courage
Faith
Integrity
Opportunity
Our History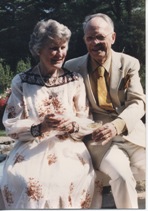 Starting in the 1990s with his family business restructured and revitalized under the leadership of his son, John Jr., John Hazen White, along with his wife Mary Tefft White (who went by her childhood nickname Happy), began to contribute significant gifts to educational institutions and arts organizations. Their mission was to give something back to the community in their adopted state of Rhode Island (John White Sr. had moved the manufacturing firm his father had started in 1920 from Connecticut to RI in the early 1940s.)
Local educational recipients include Brown University, establishing the John Hazen White Public Opinion Laboratory; Johnson and Wales University, establishing the John Hazen White Center for Arts and Science and the University of Rhode Island where they established the John Hazen White Center for Ethics and Public Policy.
The Arts community benefited from the couple's support of the RI Philharmonic and, in a bold move prompted by their love of opera, the legendary Metropolitan Opera in New York City.
After John's passing in 2001, Happy White and her son, John Hazen White, Jr., established the John & Happy White Foundation and formalized its mission to assist community-based, non-profit organizations operating in RI which serve "significant social goals."
The John and Happy White Foundation focused its giving on four areas: Music/Arts, Education, Healthcare and Community Service, with a fifth area of focus – the Environment – added a few years later. To provide organization and direction for their effort, they appointed Thomas Farrell, former Dean of the School of Arts & Science at Johnson & Wales University, as President of their Foundation.
In the years that followed, the John and Happy White Foundation expanded the board to include legal and fundraising/development experts and made grants to over 200 non-profit organizations in RI. The family's initial focus on education and the arts was strengthened with subsequent gifts to Brown University and Johnson & Wales University, and also to the RI Philharmonic and its Music School and to Trinity Square Playhouse, a nationally recognized repertory theater.
Happy White passed away in 2009. One year later, John Hazen White Jr. restructured and renamed the foundation The White Family Foundation. John Jr. wanted the Foundation to reflect the commitment by Taco, its employees, and the White Family in contributing to the betterment of the RI community. Today, the Foundation does business as Taco/The White Family Foundation.
The Foundation continues the work started by John and Happy in supporting and sustaining a host of organizations and community-based agencies throughout RI and in other communities where Taco has an operating presence. Taco and The White Family Foundation are recognized in Rhode Island as a leading philanthropic player whose support of a range of non-profit organizations is vital to the success and continuance of their respective missions in serving the community.
Tom Farrell retired in 2015 (he was named President Emeritus in recognition of his significant contributions to the foundation). The foundation board then elected board member Marjorie Houston, a nationally recognized expert in gift planning whose career encompassed fundraising and development work for Brown University and Wheaton College, as President of the Foundation.
Under Ms. Houston's leadership, the Foundation's board restated its Mission to better reflect the family's areas of interest. Effective July 2019, the Foundation will focus its support on organizations that impact Arts in the communities where it maintains an operational presence – Rhode Island, Southeastern Massachusetts, and in Nashville, Tennessee for its multi-state Hydroflo Pumps subsidiary, a Taco Family company.