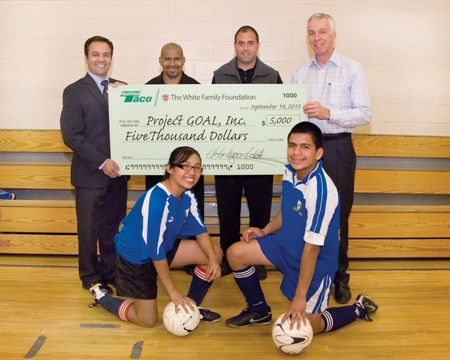 Project GOAL Helps Disadvantaged Students Stay in School by Providing Academic Support in Combination with Fun Playing Soccer
Project GOAL Cranston, RI, October, 27, 2010 – Taco/The White Family Foundation, the philanthropic arm of Taco, Inc., has awarded $5,000 to Project GOAL, a non-profit organization which works with disadvantaged youth here in RI.
Project GOAL, which stands for Greater Opportunity for Athletes to Learn, focuses is on students in grades 6 through 8 who attend public schools in Providence, Pawtucket and Central Falls. Project GOAL's program combines no charge after-school tutoring with soccer-related activities. Students are selected to participate in project GOAL for their academic potential and soccer abilities. Student participants work with educators for an hour and a half after the school day ends, two days a week, to improve study skills and habits; they then receive soccer coaching from accredited coaches.
Some 60 students currently participate in Project GOAL, according to Peter Whealton, the Chairman of CORE Business Technologies of East Providence and a co-founder of Project GOAL. 90 percent of students who have participated in Project GOAL since its inception have graduated from high school, fulfilling the organization overriding objective of keeping disadvantaged youngsters in school. To date, 17 of its students have transferred to private schools.
Whealton formed Project GOAL seven years ago with Darius Shirzadi and Javier Centeno, both former soccer players and coaches who remain active in the minority community. They use sport as a draw for soccer-loving students, providing an after-school haven that mixes academic support with the opportunity to learn and play soccer. Students are encouraged to "earn" time on the playing field by exhibiting good schoolwork habits. To continue their participation in Project GOAL, students must maintain their academic standing.
"Project GOAL is a truly worthy program that merits Taco/The White Family Foundation's support," says Nelson Rego, Taco's Vice President of Quality and Technical Services. "These children come from disadvantaged families in challenging environments, where education is often not a high priority. Project GOAL helps these kids stay in school, which gives them the best shot possible for future success in life."
Project GOAL will use the $5,000 gift, says Peter Whealton, to pay for transportation costs, one of the organization's biggest expenses. Project GOAL regularly buses students to area soccer fields and brings students from Providence and Pawtucket to the Calcutt Middle School in Central Falls, where it conducts its after-school tutoring sessions.
Project GOAL maintains an existing relationship with the New England Revolution professional soccer franchise, with Moses Brown School which offers its soccer fields for practice, and with Rhode Island College, where Project GOAL students receive literacy and reading assistance from Masters in Education candidates.
About Taco/The White Family Foundation
Taco/The White Family Foundation was established in 2000 to receive and evaluate grants and other assistance requests from non-profit, community-based organizations serving significant social goals in Rhode Island. Since its inception Taco/The White Family Foundation has provided assistance to almost 300 non-profit organizations active here in RI. www.thewhitefamilyfoundation.org
About Taco, Inc.
Taco, Inc., headquartered in Cranston, is a leading manufacturer of heating and cooling equipment for use in residential, commercial and institutional buildings. The company employs approximately 500 in Cranston, Fall River, MA and Milton, Ontario, Canada. www.tacocomfort.com