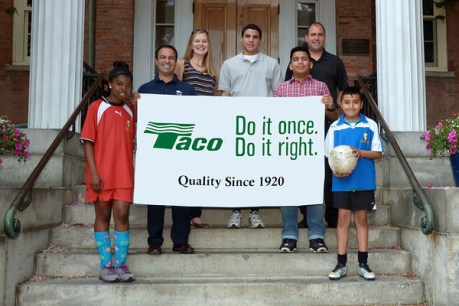 Cranston, RI, May 31, 2012 – The Taco/White Family Foundation has announced a second grant to Project GOAL, the student soccer non-profit based in Central Falls. The philanthropic arm of Taco, which draws its funding from Taco operating profits, is providing the organization with $7,500 annually for the next three years. The new gift marks a continuation of funding for project GOAL provided by the Foundation; in 2010 it awarded Project GOAL $5,000 in initial funding.
On the Moses Brown campus members of Project GOAL pose with Nelson Rego of Taco
(2nd from left).They are (left to right): 1st year Project GOAL student Francess Kamara (8th Grade Wheeler),
VickyBarokha, Project GOAL's Director of Administration, 4-year Project GOAL student John Olivo
(Moses Brown graduate going to Babson this fall), Luis Hernandez, 4-year Project GOAL student
(8th Grade Calcutt Middle School, Central Falls, Darius Shirzadi, Project GOAL Executive Director and
Co-Founder, and Adolfo Ramos, a 5th Grader at Robertson Elementary in Central Falls.
About Taco/The White Family Foundation
The Taco/White Family Foundation was established in 2000 to evaluate grants and other assistance requests from non-profit, community-based organizations serving significant social goals in Rhode Island. Since its inception the Taco/White Family Foundation has provided assistance to over 300 non-profit organizations active in RI. Funding for the Foundation's work is provided through company profits generated by Taco's workforce. www.thewhitefamilyfoundation.com.
About Taco, Inc.
Taco, Inc., headquartered in Cranston, is a leading manufacturer of heating and cooling equipment for use in residential, commercial and institutional buildings. The company employs approximately 500 in Cranston, Fall River, MA and Milton, Ontario, Canada. www.tacocomfort.com