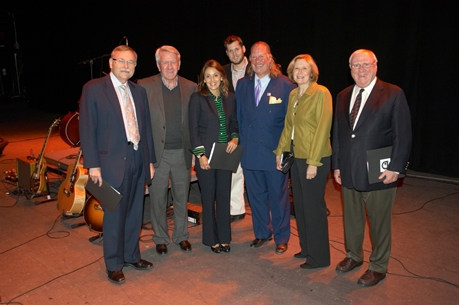 Providence, RI – Joseph W. Walsh, Esq., Chairman of the Providence Performing Arts Center (PPAC) Board of Trustees, is pleased to announce that Taco/The White Family Foundation is the 2012/2013 Broadway Series season sponsor. Taco/The White Family Foundation's sponsorship was announced today by Walsh during a special event at PPAC
Walsh said, "On behalf of the PPAC Board of Trustees and administrative staff, we are proud to welcome Taco/The White Family Foundation as our new season title sponsor. Their commitment to the theatre in the season ahead enhances PPAC's ability to continue to present top flight Broadway touring shows. They have been a wonderful sponsor and partner for the Contemporary Classics Series over the past two seasons, and we are looking forward to working with them again on this upcoming season of stellar shows."
John Hazen White, Jr., President of Taco, Inc., said, "Our partnership with PPAC over the past two years has been fantastic. We also felt that sponsoring the full Broadway Series this season would strengthen and further the partnership opportunities for Taco/The White Family Foundation and PPAC. On behalf of everyone at Taco, we are looking forward to the season of great shows ahead."
Tom Farrell, President of the Taco/The White Family Foundation, said, "We have received positive feedback from many people in the community about our involvement with PPAC. Based on this, we believe that by becoming the title sponsor for the main Broadway Series, we can make an even greater impact in the community."
J.L. "Lynn" Singleton, President of PPAC, said, "We have seen how much Taco cares about its employees and their families; in our experience, they always seek to do something here at the theatre that will benefit or enhance the lives of their dedicated and loyal workforce. That is consistently foremost in our conversations; we greatly appreciate their ongoing support."
Singleton went on to announce the shows in the Taco/The White Family Foundation Broadway Series, which are CATCH ME IF YOU CAN (October 7 – 14, 2012), ELF (November 4 – 10, 2012), MEMPHIS (December 4 – 9, 2012), JEKYLL & HYDE (January 1 – 6, 2013), MILLION DOLLAR QUARTET (January 15 – 20, 2013), SISTER ACT (April 9 – 14, 2013), and WAR HORSE (June 5 – 9, 2013).
Taco, Inc. is a third-generation family-owned business and is the leader in designing hydronic systems for residential and commercial building applications. Their headquarters are in Cranston, Rhode Island with manufacturing locations in Cranston and Fall River, MA. In 1992, Taco opened the Taco Learning Center for its employees and families at both facilities; the Center offers 45 different courses. Taco also offers cross-training programs for employees.
About Taco/The White Family Foundation
The Taco/White Family Foundation was established in 2000 to evaluate grants and other assistance requests from non-profit, community-based organizations serving significant social goals in Rhode Island. Since its inception the Taco/White Family Foundation has provided assistance to over 300 non-profit organizations active in RI. Funding for the Foundation's work is provided through company profits generated by Taco's workforce. www.thewhitefamilyfoundation.com.
For more information on PPAC's 2012/2013 TACO/The White Family Foundation Broadway Series, please visit www.ppacri.org
About Taco, Inc.
Taco, Inc., headquartered in Cranston, is a leading manufacturer of heating and cooling equipment for use in residential, commercial and institutional buildings. The company employs approximately 500 in Cranston, Fall River, MA and Milton, Ontario, Canada. www.tacocomfort.com